Solar panel warranties, like all warranties, protect your solar product and are an important part of any solar equipment. There are two types of warranties that keep your panels covered, Understanding the differences between the two is crucial.
Knowing which panels feature the best warranties is important to evaluate which solar panels fit your residential or commercial project the best. We at Heyday Ventures always get asked about what are the warranties for a solar panel and how they matter.
So now, Let's try to understand the warranties a bit better.
Solar Panels in general, have two types of warranties:
1. Product warranty is otherwise known as manufacturer's product warranty
2. Performance guarantee is otherwise known as linear degradation warranty
What is a Solar Panel Product Warranty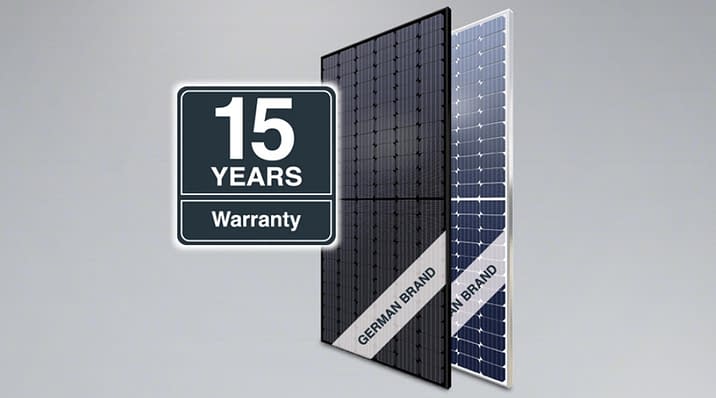 The product warranty covers manufacturing faults, defects, workmanship-related issues, environmental issues, wear , or other physical issues with the solar panel. It is one of the most important factors while selecting a good solar panel.
In general, most manufacturers cover similar aspects as mentioned above. The exceptions usually include damage due to a falling tree branch, hail, or other objects on the solar panel. Contact your local insurance company specialized in providing insurance for solar PV systems to safeguard against these defects,.
What is covered by the manufacturer's product warranty?
The best manufacturers generally provide the removal , replacement, and disposal of the old panel, and also reinstallation of the same. In India, 95% of the solar panel companies only provide the replacement of the broken panel. The disposal and the reinstallation of the same are left to the customer.
It is recommend to go thoroughly go through the warranty documentation or speak to an authorized distributor like Heyday ventures before you make your purchase decision.
Which solar panel manufacturers have the best product warranties?
The product warranty generally lasts from 10 years, 15 years . Some manufactures offer it even up to 25 years such as LG, Sunpower, etc.
It goes without saying that, the higher the solar panel warranty the better it is for you. It is a good practice to go for the best warranties such as the modules from Sunpower, Axitec, or Pennar.
Top solar panels with their respective product warranties are as follows:
| | |
| --- | --- |
| Manufacturer | Product Warranty Offered |
| Sunpower | 25 years |
| Pennar Solar | 15 years |
| Axitec Solar | 15 years |
| Longi Solar | 12 years |
| Vikram Solar | 12 years |
| Trina | 12 years |
| Jinko | 12 years |
| JA Solar | 12 years |
| Canadian Solar | 12 years |
| Adani Solar | 12 years |
| Waree | 10 years |
What is a Solar Panel Performance Guarantee
Solar panel degrade nominally every year and in turn produce a slightly lesser amount of electricity every year. That's true for every solar panel but varies in degree.
A good performance warranty is accepted as about 85% at the end of 25 years to 30 years. Some manufacturers are seen to even claiming a performance guarantee of 90% at the end of 25 years. The solar panels are guaranteed by their manufacturer, to produce electricity at 85%-90% of their original power output rating at the end of 25 years.
Performance warranties are an indicator of a panel manufacturer's service and support policies. If you ever encounter a problem of degradation beyond the expected limit with your solar system.
However, in practicality, 25 years or 30 years is too long a period for any form of guarantee. Measuring the performance over the life of the panel is a difficult task. It's impossible to even prove the claim unless it's in a solar farm, a lab or a utility-scale PV project.
Which Solar Panels have the best Performance Warranties?
Performance warranties are usually for about 25 years. Only a few top-tier manufactures such as Pennar offer up to 30 years of performance warranty on select products.
Top Solar Panel manufacturers (with a performance guarantee of 80 % or above) by their guarantee period are listed below :
| | |
| --- | --- |
| Manufacturer | Performance Guarantee Period |
| Pennar Solar | 27/30 years |
| Longi | 27/30 years |
| Suntech | 27/30 years |
| Sunpower | 30 years |
| Jinko | 27/30 years |
| JA Solar | 27/30 years |
| Canadian Solar | 27/30 years |
| Axitec | 25 Years |
| Adani Solar | 12 years |
| Waree | 10 years` |
How to claim a solar panel warranty?
First you would contact the solar installer who will then come to your property, diagnose the issue, and next if there is an issue, the installer will be able to help you along with the warranty and replacement process. This is why choosing a good solar installer becomes important for your residence or your commercial property. If for some reason you are not able to call the installer the next best thing is to call the manufacturer directly.
You might find no luck in contacting some Chinese manufacturers or other non-responsive manufacturers for replacement. The next best thing to do is do some research and find out who is the wholesaler of the brand. In recent times many Indian & Chinese solar module manufacturing companies stopped functioning, collapse, or cease to exist such as companies like Bosch, Csun, Schutten Solar then such warranties will not be honored.
Conclusion
To sum it up, the product warranty offered by the manufacturer is one of the key factors while selecting a solar panel. In addition, there are also other factors to consider in its selection such as a long performance warranty and the manufacturer service policies.
Having the longest warranty alone is not alone sufficient. The manufacturer behind the warranty is equally important as the warranty itself. Heyday Ventures only promote brands that have a local office registered in India for an easy warranty claim process. Contact us for a hassle free and trusted solar experience today !