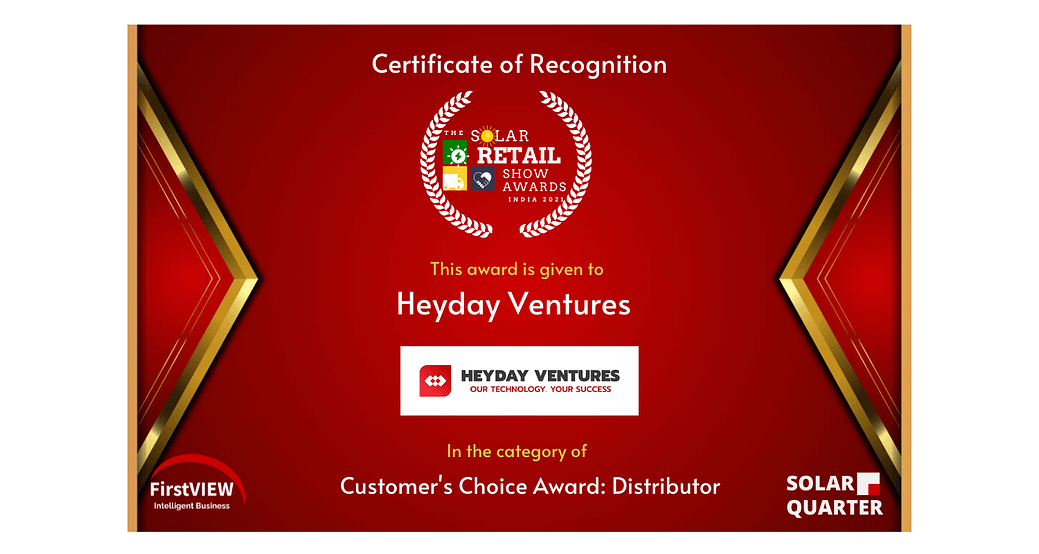 Recognizing & Honoring some of the major players in the South Asian Solar Retail Industry, a virtual gala award ceremony 'Solar Retail Show South Asia Awards 2021' was held on 30th June at 4.30 pm (IST).
The award ceremony was a platform that focussed on the best in sales, network, quality products, and comprehensive services offered by the South Asian distribution companies and their teams.
The ceremony was graced by the guests of honor Mr. Subrahmanyam Pulipaka, CEO of, National Solar Energy Federation of India, and Mr. Dipal Barua, Founder, and Chairman of Bright Green Energy Foundation. They enlightened the audience with their expert insights on the future development of the Indian as well as Bangladesh Solar Sector.
The ceremony was an entertaining event celebrated with much zeal and excitement. The unveiling of winners was followed by one-to-one rapid-fire chats and enticing conversations.
Heyday Ventures was the proud winner of the Consumer's Choice award: Distributors.
Read all about it here.